AimData ADVANTAGE
Get the Advantage
AimData ADVANTAGE provides multi-channel, one-to-one customer communications for automotive dealerships. Using varied and customized methods, you can increase your bottom-line profits and build loyalty among your customers. Our solution adds a 17-20 percent lift in email addresses, while providing you with 48 percent more household information, ultimately reducing your advertising expenses by up to 50 percent.
Marketing Made Simple and Efficient
You're an expert in selling and servicing cars. AimData ADVANTAGE helps you focus on what you do best while trained marketing experts handle every detail of your advertising campaigns, including the administrative work. Our automated, multi-channel marketing solution helps ensure you deliver targeted, timely messages at each point of your customers' life cycles.
Develop specific targeted marketing campaigns rather than sending mass mailings.
Market from an accurate, comprehensive database including 10 years' worth of data.
See measurable results, and track marketing ROI to evaluate future opportunities.
Eliminate ineffective ad spending to increase your overall profit.
Manage your relational database, keeping address, vehicle, credit and demographic data updated.
Segment the database by the customer's relationship to your dealership and by categories.
Target your dealership's message based on your customized segmentation and media channels.
Marketing Analyst
Your dedicated resource with AimData ADVANTAGE to drive success at your dealership.
Objective
To maximize your profit and marketing results by identifying your target audience, managing the delivery of your customer messages, providing detailed reports that measure the success of your communications and serving as the dedicated source for all your advertising needs.
Summary of Skills
A skilled marketing professional who combines a thorough knowledge of the automotive retail industry and marketing trends to develop targeted campaigns, establish marketing strategies and execute dealership communications, develops a relationship with your dealership to meet your specific needs, build your database and improve your success.
Responsibilities
Coordinate each marketing campaign, from concept to execution.
Validate accuracy, and initiate data cleansing of your dealership database to establish strong leads and remove redundant, outdated or inaccurate information.
Construct marketing evaluations to identify potential prospects in specific markets.
Build and maintain strong customer relationships within the dealership.
Manage regional marketing efforts across various media channels.
Maximize profits with strategic, targeted communications.
Review results, and provide reporting to the dealership after every campaign.
How It Works
Delivering the right message at the right time to the right customers is the key to marketing success. With AimData ADVANTAGE, your Marketing Analyst will perform a comprehensive database cleanse and construction, segment your customer data and build a targeted communication approach specifically for your dealership.
This marketing process helps connect you with customers ready to buy or ready for service, reports your success and enhances your bottom line.
To view a demonstration of our AimData ADVANTAGE solution, click here.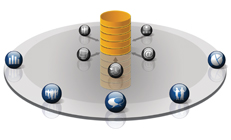 Request a Demo
To request a demo of our Inbound Call Tracking product, click here or call .
To speak with a member of our Sales Support team, please click the button below.