Voice View™
Monitor and Demonstrate Lead Quality from Your Media Source
Know that every caller is receiving the best possible experience with our optional Voice View feature. It can record any or all inbound calls, so you or your advertising customer can play them back at any time. Review the recorded calls with our online reports or email. Use Voice View to demonstrate the quality of the leads you provide, build customer loyalty and retention, and sell more effectively.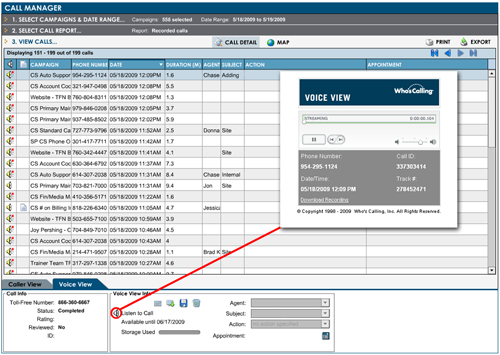 Capturing Lost Leads
Improve your marketing efforts by capturing lost leads. Many sales and advertising managers have discovered the value of reviewing sample calls—for uncovering and following up with sales opportunities the first contact representative may have missed.
Announce to Your Staff Where the Call is Coming From
The "Whisper" feature gives sales agents a "heads-up" before they pick up the line, through a brief pre-recorded message that tells them which advertisement the caller is responding to.
Improve Call-Handling Skills
Your sales staff will be able to utilize the Voice View feature as an effective training tool by using the actual voice recordings as training examples.
Contact Us
Interested in Who's Calling services? Fill in your information below, and we will contact you to discuss what we can do for you.
Request a Demo
To request a demo of our Inbound Call Tracking product, click here or call .
To speak with a member of our Sales Support team, please click the button below.